Auction drafts are becoming more and more popular and many of you have asked for tips or strategies to use in such drafts. Over the last two years I have been involved in a number of auction drafts and the large majority of my leagues are now auctions. These are the fairest drafts because no manager has any advantage over the others. Every manager has the same budget and has the same chance of landing Adrian Peterson or Jamaal Charles.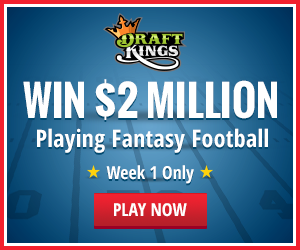 In serpentine drafts, you have difficult decisions to make but the choice will often only be between two or three players. In auction drafts you have to have a reasonable knowledge of pretty much every single player if you want to build the best possible team. In this article I will explain how I approach auction drafts and give you some advice on drafting in auction leagues.
The question most often asked when discussing auction drafts is what percentage of my budget should I spend on each position? Unfortunately there is no answer to this question and anyone who goes into a draft thinking that they should spend a certain percentage of their budget on positions will usually make some big mistakes during the auction. The main reason for this is that all auction drafts are very different. In redraft leagues, Peterson will be selected first most of the time and occasionally second. In auction drafts, Peterson could go for anywhere between 30% and 40% of the allocated budget and I have also seen Brady go for 13% of the budget and I have seen him go for 22% of the budget. Certain leagues value running backs more and certain leagues value quarterbacks more so if I tell you to spend at most 5% of your budget on quarterbacks, you could end up with say Joe Flacco and Eli Manning as your two quarterbacks.
My goal going into auctions is to determine as early as possible how the market values each group of players and if players being sold early are going for too much or too little money. In order to do this you can use a site such as Fantasy Auctioneer which provides average auction values. For example, assume every owner has a $200 budget and Peterson is the first player sold for $80 and Aaron Rodgers then sells for $50. Both of these players sold for more than the average auction values (they are 73 and 45 according on that site) which could suggest that top tier players are selling for more money and you should build your team with more depth. However, it could also suggest that players are selling for more money now and later on you might be able to get top players for less money. For that reason when it is my turn to nominate I would put up a guy like Andre Ellington for auction. This will allow me to compare his average auction value with his actual selling price to know if everyone is selling for more or if it is only the top tier players. When you pick the player to nominate, do not nominate any of the guys you think are generally undervalued (for me that's Justin Forsett, Frank Gore, Mark Ingram and others) and do not nominate a player that you do not want at all. Once you are certain that all players being sold are overvalued then you can nominate players you don't want or if you think all players are being undervalued at a certain point in the auction you can nominate some of your sleepers. Before doing that however, you need to understand how the market values different groups of players which is why I would nominate a guy like Ellington that I have ranked in about the same spot as the average manager. From experience I would say in close to 80% of the auctions I have participated in, players being sold early go for more money and you can find very nice bargains with a little patience.
With that said, there are still some groups of players that you can generally target going into an auction where you can be reasonably confident that you will find nice discounts. The auctions I participate in are generally slow auctions and analyzing the market when you only have a few hours to bid is much easier than when you have a few second. In a faster auction you should still have enough time to make a quick read on the market and find a general trend that can help you. In an article I wrote a few weeks ago, I discussed the strategy of drafting two slightly above average quarterbacks instead of drafting a star quarterback and a below average one (see article). This will generally apply to most auction drafts and unless you are very high on a top quarterback and you can get him for lower than his average auction value, use the quarterback tandem strategy. In auction drafts, our Average Draft Position Analysis Article becomes even more useful. In that article you can see that there is usually a big drop after the top 16 quarterbacks, after the top 20 and top 31 running backs, after the top 32 wide receivers and after the top 10 tight ends. By combining that article with our player rankings, the few basic rules that you should follow in an auction are:
-Draft two quarterbacks in the #11 to #16 range
-Draft three running backs in the top 23
-Draft five wide receivers in the top 33
-Draft one tight end in the top 10
These are based on a PPR scoring system and a league that starts 1 QB, 2 RBs, 3 WRs, 1 TE and 1 RB/WR. You should make sure you keep enough money for all of those and decide whether you believe top WRs, top RBs, second tier WRs or second tier RBs are being undervalued. As much as I would like to give you a more precise strategy, there is none. In some of my auctions I have Eddie Lacy, Dez Bryant and Rob Gronkowski and in some others I only have second and third tier players. Everything depends on how others in your league value players and by having a flexible strategy you will have much more success.
The best way to prepare for auctions is to study players and to practice which can be done on Fantasy Auctioneer. Preparing a list of values for each player is in my opinion a waste of time unless it is "market adjustable" because you could end up with players you don't want, simply because you thought RBs would go for more money than they did. Practicing will allow you to learn how to get a read for the market as quickly as possible and find where the bargains are. If you lack experience a very easily solution is to have a list of about 25 to 30 players that you feel are undervalued based on average draft position and draft your starters and top backups amongst this list alone. If you do this you may miss one or two bargains but you will avoid making a crucial mistake and it ensures that you will only have players you like.